At least 2 million blog posts are published every day on WordPress.com. And this number isn't even showing the real picture as the majority of WordPress blogs are self-hosted. Add the wide variety of other types of blog hosts like Ghost, Medium, etc. Every day at least 5-10 million blog posts would be published across all platforms.
Is it even worth starting a blog?
Why would you even think of starting a blog today? There is way too much competition out there. Does content marketing still worth the time and money you need to spend?
Yes, it is easier to buy traffic through Google or Facebook ads. You can target your audience based on various demographics and interests. Paid ads are worth billions of dollars, and it is not going to go down any time soon.
But the problem with paid ads is that it's just like living in a rented house. You pay money to Google and Facebook to rent out visitors. As long as you keep spending money, you would get visitors.
Some times, the price you pay for each visitor would go up. And once your cost of acquisition is more than your lifetime value of a customer, it makes no financial sense to put in more money.
Your blog is an asset
Compared to paid ads, having a blog is an asset to your company. You might spend a few hundreds or even thousands of dollars into researching and writing a 2000 word blog post. But, each of that blog post you write will earn you dividends for years after you have written them.
That's the power of content marketing.
You can't expect to write a blog post today and get visitors from Google tomorrow. It would take a few months for your content marketing efforts to kick in. But when it does, the quality of the leads you get through this is much higher than paid ads.
You have control
When you are dependent on Google or Facebook ads to drive traffic, you risk losing it all if they decide to shut you down. But if you have your content marketing, you can control how your visitors reach you.
I don't know about you, but I wouldn't want to put all my eggs in one basket.
Why content marketing works
Visitors searching for something on google are looking to solve a specific problem. If they reach your blog post and you are able to solve their problem, you are seen as an expert in their eyes.
And in the future, if you try to sell them anything, there is a much higher chance they would convert to customers.
Digital Ocean follows this strategy fantastically.
Digital Ocean creates hundreds of articles about installing and running servers. Any developer searching for how to deploy their code would get a digital ocean article in the top. By helping out their visitors, they are now an expert in servers and infrastructure.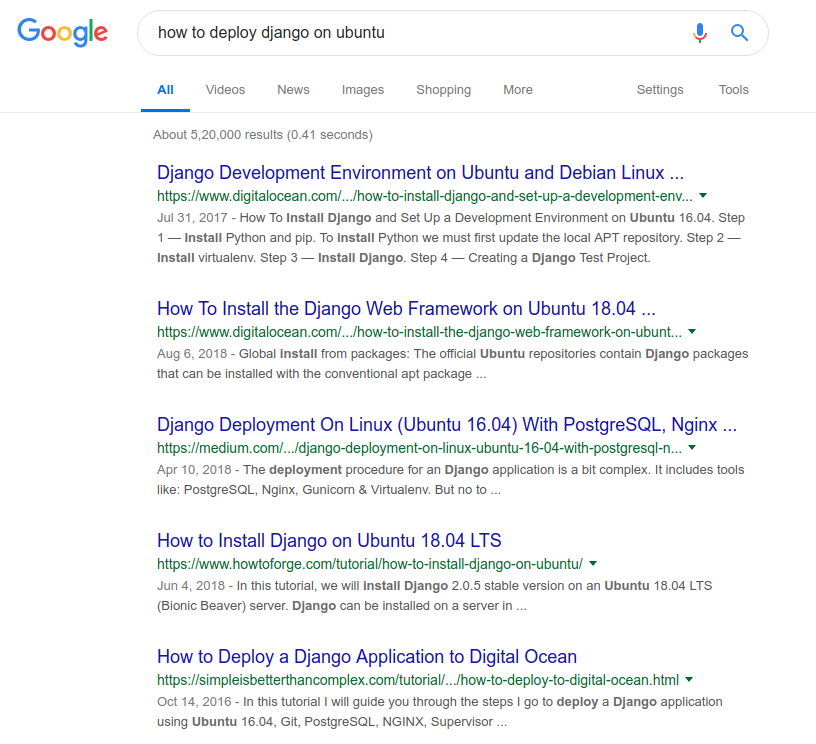 And since the developers keep seeing the same brand and logo for any of their infrastructure questions, the visitors soon end up becoming customers.
Five things to make your blog successful
Creating a successful blog is not easy. But if you follow these five simple things, you have a better chance.
1. Consistency
If you want your blog traffic to keep growing, you need to keep adding more content. Publishing new posts regularly is very important, especially when you are starting fresh. At least aim for one post every week.
Seth Godin, one of the best marketers of our times, blogs every day. And he has been doing it consistently for the past several years. And each of his posts gets tens of thousands of visitors every day.
James Clear regularly posted twice a week for many years when he started blogging. That was the main reason behind his millions of unique visitors every year and his massive list of email subscribers. That allowed him to launch his book Atomic Habits and his other courses.
Always choose a specific day or days to publish your content.
If you want to post one post every week, you can choose any weekday, preferable early in the week.
For two posts every week, publish them on Tuesday and Thursday.
And if you can post three posts a week, choose a Monday, Wednesday and Friday schedule.
These choices of days in the week make sure your audience gets your posts at regular intervals and also avoids content fatigue. You don't want to push too much content at the beginning of the week and not publish anything for many days later.
It is best to have an editorial calendar and keep at least 3-5 posts in advance ready to publish. This is easier and essential if you have a dedicated content team.
2. Create Evergreen content
Just because you need to publish regularly, doesn't mean you should post short blog posts with fluff content. Seth Godin can publish a post with only 50 words. But we don't have the same luxury as Seth. He has established himself as an expert in his field.
If you and I have to establish ourselves, we need to create what's called an "Evergreen Content." Evergreen Content is something that is relevant and stays fresh for your readers for years to come.
That means the following types of posts are out:
News Articles
Posts about holidays or specific seasons
Numeric reports and statistical analysis, cause they go out of date.
Latest trends, pop culture, etc.
If you search for any historical figure or celebrity, the first result will always be Wikipedia. That's because their wiki page has become an evergreen content. It has everything you want to know about that person.
And Google likes that kind of articles.
But you can't compete with Wikipedia always. So what types of blog posts can be evergreen?
Listicles
Top Tips and tricks
How-to tutorials (remember Digital Ocean?)
Product Reviews
By creating posts with this template, you have a higher chance of getting your articles viral in social media. If you want inspiration for articles, check out Buzzsumo. Type your topic and see which posts were shared the most in social media. Use that and create your version.
3. Regularly update old content
If you plant a sapling and leave it, it would soon die because of lack of water and other nutrients. If it is left in the wild, some animal might eat it up. You gotta nurture any plant to help it grow into a tree. Only then you can enjoy the fruits of your labor.
Content marketing is also similar. You can't publish a blog post and leave it for eternity. You have to update it and nurture it regularly. Every popular Wikipedia article gets updated multiple times a day, and that's what pushes it to the top.
Mark your calendar for a day or two, once in 3 months to go back through your old articles, see which have outdated information and update them. Even if you thousands of posts, the entire workload can be split up with a strong content team.
Do remember, while you are updating your posts, make sure you don't change the permalink of the post.
By updating regularly, you are giving a strong signal to Google that your site is up to date and has better content than your competitors.
4. Promote and Engage with your Audience
Your visitors are the most important part of your blog. They are the ones who regularly read your posts and convert to customers. If they leave a comment on your blog post, make sure you reply to them. Prompt response is always appreciated.
And your audience wouldn't always know that you published a new post. You would have to promote it to them. Make sure you collect email addresses of your visitors and send them updates whenever you publish new content.
Similarly, social media is another essential referrer to get new visitors, when you are starting your blog. Share your post on Facebook, Twitter, LinkedIn and everywhere. If possible, ask your family, friends, employees to like, comment and share that post.
Whenever there is a lot of activity and engagement on social media, these sites push your content to a lot more people. That helps a lot when you need to reach out to new visitors.
And just like comments on your blog, make sure you engage with people who promote/comment your blog posts on these social media.
5. Repurpose your content
Blogs are just one small slice of the much bigger content marketing pie. Gone are the days of writing blog posts and reaping the benefits.
Nowadays, your audience has a lot more distractions like Facebook, Twitter, Instagram, YouTube, etc. And not everyone would be active on all these platforms.
To reach these people, you need to repurpose your content specifically for them.
After you write a blog post, create a 5-10 minute long video with the same content. Upload that to YouTube.
Hire a designer on Fiverr to create a nice infographic of your blog post. Share it on Twitter and Pinterest. You can also create a PDF checklist.
Publish the post as a podcast episode. Not everyone wants to read a 2000 word article, but they would readily listen to a 10-15 minute podcast episode on their commute.
Create 60 second long chunks of videos and share them on Instagram and Facebook Stories.
If you have created an excellent, long evergreen content, publish it as a nicely formatted PDF file and promote that. It could even act as a fantastic lead magnet to collect email addresses.
There are numerous possibilities. And you don't even have to do it all on the day you publish your post. You can start with publishing the post first, then keep updating the post with the other files and content.
Conclusion
Blogging is not dead. As long as people need information and help, you can always make your blog one of the pillars of your marketing strategy. A good marketer utilizes his blog posts and squeezes the most out of it by creatively mixing it with other channels.
Of these five essential things, which ones have you been doing? And which are you planning to do a lot more this year? Also, comment below if you feel you are going to do something not mentioned here.
Srini is an entrepreneur+developer who realised launching a successful product is much more than building cool features. He has helped numerous startups and businesses build successful businesses for the past 13 years.